Roll over image to zoom in
Description
A smart, integrated loudness metering and limiting toolkit for broadcasting, post and game audio with a feature-rich, yet clean, user interface offering full interactivity and scalability.
What does BUTE Loudness Suite 2 do?
Many producers are moving towards mixing and mastering within loudness specs set internally or by major streaming and broadcasting platforms for quality assurance. By providing metering and limiting functions in the same plugin with smart workflow features to maintain creative flow, BUTE Loudness Suite 2 helps optimise the quality of mixes and masters, while avoiding potential distortions downstream. 
Smart, synchronised workflow.
Loudness metering tools are ideal for balancing music, dialogue and sound effects whether in stereo or up to Atmos 7.1.2 surround sound. Long-form content is made much easier to deal with using our smart history overview. Get an overview of up to 10-hours of content and navigate to any section of a track with ease using the interactive display. BUTE's custom alert system will clearly point out areas that go outwith a user specified range and any True Peak overshoots. A wide array of industry standard presets are included.
Mixing and Mastering with BUTE.
All of our BUTE plugins are compatible with VST, AU and AAX (including Audio Suite), so they will synchronise harmoniously with almost any DAW. Our smart auto re-metering feature gives instantaneous feedback on how loudness will be affected by changes to the mix so there is no need to re-meter the whole mix. Readings for Absolute/Relative Scale, True Peak/LUFS and Max/Live modes are easy to toggle between from the main display.
Powerful compact read-out view.
When screen estate and CPU are at a premium, a compact read-out helps keep things optimised. BUTE is completely resizable. Even while in compact view, easily switch between display settings and tweak limiting configurations, while saving screen estate for other programs.
Stay faithful to your mix.
Smooth out peaks by adjusting pre-gain and selecting a preset release curve - Transparent, Natural or Smooth - which have been designed to make gain reduction as un-noticeable as possible. The release time configures automatically based on multiple properties of the input signal, and the dial is used to set the multiplication factor of the calculated release time, enabling fine tuning. BUTE can also be utilised as a Maximiser to push quieter mixes louder without sacrificing dynamics and clarity, while taking care of True Peak overshoots. The result? Audio stays faithful to the original sound, whilst fitting the loudness spec of any platform.
Bring your music to all broadcasting and streaming platforms.
All the tools in your hand to make your music sound optimal on Spotify, YouTube, TIDAL, Apple Check and more. We regularly update presets and include most platforms. User-defined presets for internal standards can also be created and saved. 
Included - BUTE Loudness Normaliser
Audio normalisation becomes a breeze with our automated solution, BUTE Loudness Normaliser (BUTE-LN), which comes with this toolkit as a standalone application or Audio Suite plugin. Perfect for a final check for True Peak overshoots, our algorithm maintains the natural dynamics and characteristics of your audio while automating part of the journey. Simply drag and drop audio files into the standalone application, hit render and then export. 
Included - BUTE Limiter 2
Our well-received BUTE Limiter 2 (BUTE-L2) is a dedicated limiting plugin offering Threshold and Gain Reduction along with 5 different release curves to choose from, with optional automatic release time calculation depending on content and other features including the ability to use it as a Maximizer. 
APPLICATIONS
Mixing & Mastering
Produce consistent masters
Avoid 'level shifting' and clipping downstream
Ensure accurate representation of your audio/music
Measure and refine dynamic content
Post-production & Broadcasting

Hit target levels easily with a wide range of implemented presets
Ensure and prove compliance with regulation
Balance dialogue, music and effects
Manage live broadcasting & streaming levels accurately and efficiently
Optimise dynamics for streaming content
Game Design
Balance sound effects and dialogue
ASWG 5.1 and 7.1 Surround Sound support (Surround version)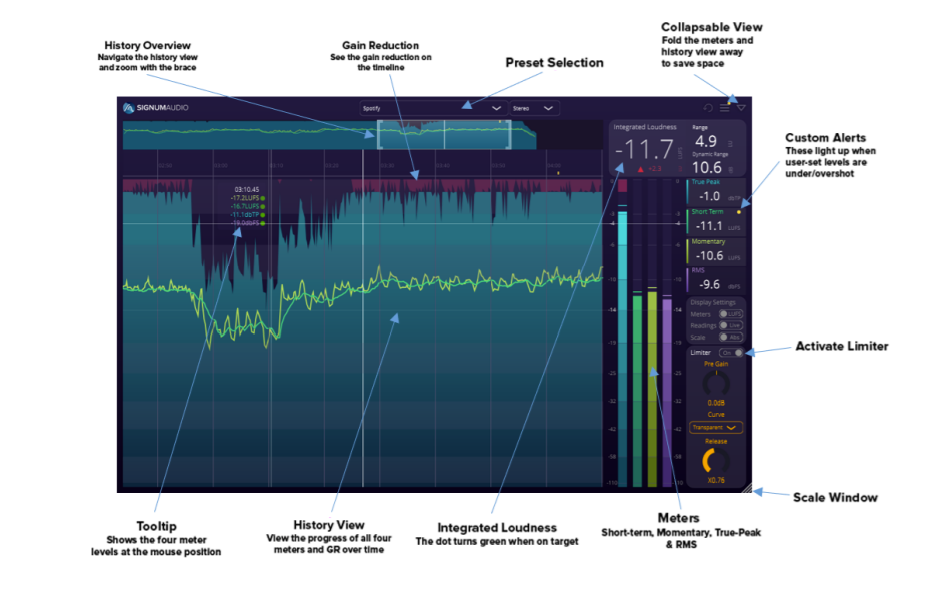 Key Features of BUTE Loudness Suite 2:
Integrated True Peak limiter and loudness metering in one plugin

Smart history overview for completely interactive browsing of up to 10-hours of loudness data at a glance

Custom alert system flags up areas that need attention with severe (red) or warning (yellow) pointer on the history overview. User settings can be defined in the settings panel.

Smart auto re-metering feature which syncs to DAW on load-up, and auto-detects and reflects any adjustments you make in the DAW on the graphical display

Powerful compact read-out view which is completely resizable vertically and horizontally to optimise screen space while keeping readings visible and limiting settings accessible

Adaptive auto-release function which can be tweaked by a scale factor using the release knob, enabling fine tuning

Ultra-transparent True Peak limiting algorithm means mastered audio stays faithful to the original mix

3 different release curves for Transparent, Natural and Smooth limiting (BL2 includes an additional "Pumping" and "Linear" release curves for creative music production)

Display settings on main user interface to switch between True Peak/Metering, Relative/Absolute Scale, or Max/Live modes

Highly responsive and informative graphical interface

Auto-detects DAW channel configuration with dropdown menu to select mono, stereo or surround configurations (Surround version)

Wide array of built-in presets for the very latest loudness standards and recommendations

Highest quality linear phase upsampling

Industry standard (IEC 60268-18) meter bar fallback for natural, analog feel

Clean and comprehensive read-outs for short-term & momentary loudness, True Peak, and traditional RMS

Reloadable session data

Save, Load and Export metering data

Includes additional copies of BUTE Loudness Normaliser standalone application and BUTE Limiter 2 plugin

Available in Stereo or Surround version. The Surround version expands support for multi-channel configurations up to Atmos 7.1.2

Available for Windows 7 or higher and Mac OSx 10.9 Lion or higher

Compatible with VST / VST3 / AU / AAX (including Audio Suite)

Pro Tools 12.5 or higher for Audio Suite format

Free future updates
BUTE is fully compliant with up-to-date presets for the following loudness specifications:

ITU-R BS. 1770
EBU R128
ATSC A/85OP-59
ARIB TR-B32
Spotify
YouTube
Apple Check
Hulu
Netflix
TIDAL
Sony Gaming (ASWG)
AES Streaming Recommendation
US Public Radio (PRSS)
TIDAL
Pandora
Save multiple user defined preset
MINIMUM REQUIREMENTS
Operating System: Mac OSx 10.9 Lion or higher / Windows 7 or higher
Formats: VST/ VST3/ AU/ AAX (including AudioSuite)
Available in 2 versions - Stereo or Surround (includes up to 7.1.2 support).
Architecture: 64Bit Only
Pro Tools 12.6 or higher (for the AAX version of the plugin)
Payment & Security
Your payment information is processed securely. We do not store credit card details nor have access to your credit card information.